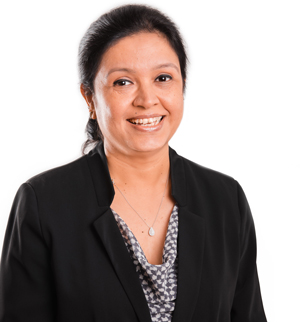 Dr. Jyoti Sharma is an Obstetrician & Gynaecologist working in the western suburbs of Melbourne. She has nearly 20 years of experience in this field. She is a compassionate & caring doctor and is passionate about women's health care. Through her extensive experience, she is able to provide high level care for both high risk & uncomplicated pregnancies as well as complex gynaecological conditions.
Dr. Jyoti is employed as a consultant staff specialist in the department of Obstetrics & Gynaecology at the Sunshine Hospital in Victoria. Her special interests are high risk obstetrics care, open & laparoscopic gynaecological procedure and colposcopy. She strives to provide excellent & personalised care to her patients.
Dr. Jyoti is available for private outpatient consultation for antenatal care & gynaecological conditions at following addresses:
1. Western Specialist Centre, 131, Main Road W, St. Albans. 3021. Phone (03) 9367 8626. Email info@drjyotisharma.com.au.
2. St. Vincent Private hospital, 240 Hoppers Lane, Werribee, Vic 3030. Phone 03 9218 8000. Fax 03 9419 6582. Email info@drjyotisharma.com.au.
3. 'My OBG', 113-115 Princes Hwy, Werribee, VIC 3030. Phone 03 9367 8626, Fax 03 93641542. Email admin@myobg.com.au.